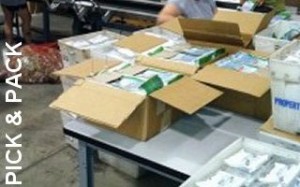 With so many shipping companies out there, finding the right pick and pack company for your business can be extremely tough.
If you're searching the web, you'll find that every company claims to be "the best." But we know better. In fact, far too many pick and pack firms do a poor job of fulfilling your orders – making errors on your shipments which put your company at risk of losing business.
Our pick and pack operations are strategically managed by a team of experienced logistics professionals. Our clients can rest easy knowing that we can efficiently process their direct-to-consumer orders with complete accuracy. Electronic Post Office's  pick and pack expertise ensures that your customers get the right product shipped to them in the timeframe they requested. This sounds simple, but the process happening behind the scenes is critical to an ecommerce or catalog retailer's success.
Accurate pick and pack operations are a necessity for Electronic Post Office's  clients. The ability to streamline a brand's outbound shipping methods introduces efficiency in inventory management and warehouse utilization. As a Electronic Post Office's  fulfillment client, you won't have to worry about mismanagement of your inventory. We operate with the best practices in the industry to handle your products with care.
In addition to creating greater shipping efficiencies, our outsourced pick and pack services leverage cost advantages due to the scale of our operations. Our team consults with retailers to find the most efficient packaging and the most cost-effective methods to meet customer demand. Managing your packaging costs as well as analyzing shipment patterns is part of our consultative approach to managing the pick, pack and ship aspect of your online or catalog business. We become your logistics partner, with a focus on finding solutions that are right for you.
To learn more call us at 1-888-728-3621 ext 22 or email us at support@mailgram.us and we will be happy to answer any of your questions.
Start a new account with us for FREE – just click here – no credit card is needed.