History of Western Union's Mailgram Service:
Mailgram is a type of telegraphic message which was transmitted electronically from the sender to a post office and then printed and delivered to the recipient via postal means.
Western Union invented the Mailgram in 1970. Service via Westar, Western Union's own communications satellite was introduced in 1974.
The advantage of a Mailgram over postal mail was speed and verifiability of transmission; they were widely used in official notifications and legal transactions. Their advantage over full-rate telegrams was lower cost while still maintaining the look and feel of an important Western Union Telegram. The Mailgram quickly became a widely-used medium for business-to-consumer communications.
Western Union discontinued all telegram messaging, including Mailgram, in 2006.
Electronic Post Office Corporation will launch it's own version of Mailgram as a valued added service and product to its very successful Facsimile Broadcasting, Email Broadcasting and Direct Mail line of Services.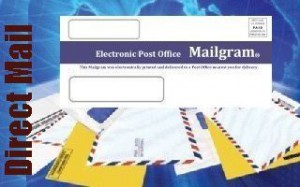 What will make Electronic Post Office Mailgram new, exciting and cost effective is it's addition to the Electronic Post Office.
Mailgram will be printed in every state and major city within minutes after your order is placed and delivered by the United States Post Office for Next Business Day Delivery.
Through our private nationwide network your message will be printed, processed and delivered to the local post office nearest your recipient for next business day delivery.
To learn more call us at 1-888-728-3621 ext 22 or email us at support@mailgram.us and we will be happy to answer any of your questions.
Start a new account with us for FREE – just click here – no credit card is needed.