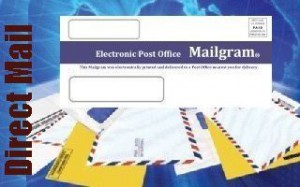 Direct Mail, Open & Read Products, Printing & Processing: Our Open & Read Mailgram, Postcards, forms and envelopes are a proven winner for securing your best direct mail responses.
We have the equipment and know-how (decades of experience) to produce personalized messages. Options include fan fold, roll to roll, cut sheet and duplex printing with extensive document creation.
Using Internet technology and Digital printing capabilities, Electronic Post Office can show you the many ways to immediately download a file and allow us to Print-On-Demand your catalogs or high volume messages.
Whatever the size or scope of your project we can fulfill your production needs professionally and cost-effectively. You get a complete range of letter shop services under one roof with equipment in place to handle jobs from just a few to several million pieces. Not sure whether to address or insert? No problem…we pride ourselves in giving proven solutions to our customers. Whether high-quality addressing, attaching or match mailings, Electronic Post Office  is a single source for results and performance.
Electronic Post Office is equipped to handle a wide variety of jobs, with our multitude of mechanical machines that can accommodate everything from a simple letter fold to the more complicated slit, merge, nest and angle folds. Plus, our ability to complete many of these tasks such as burst/fold, gluing and label air simultaneously online offers considerable time and cost efficiencies. Digitizing America has a dedicated team of fulfillment professionals, proven systems and dedicated space to set up and manage any size fulfillment program. Inventory management and transactions will be reported in any detail required. We can assist you with the initial planning, program administration and timing as well as with postal and shipping regulations.
Electronic Post Office offers timely and accurate order fulfillment, kit packaging, and custom hand assembly and bulk distribution.
Postage Discounts: Electronic Post Office  offers unparalleled postal expertise to speed the entry of your mail into the mail stream.
Our commitment has always been to exceed postal requirements and our customer expectations with specialized bar coding and presorting. Utilizing this technology we normally receive 100% acceptance ratios on work that Electronic Post Office  has submitted into the Postal System. Electronic Post Office offers our customers an industry standard for presorting capabilities, optimum discounts and best possible delivery.
To learn more call us at 1-888-728-3621 ext 22 or email us at support@mailgram.us and we will be happy to answer any of your questions.
Start a new account with us for FREE – just click here – no credit card is needed.